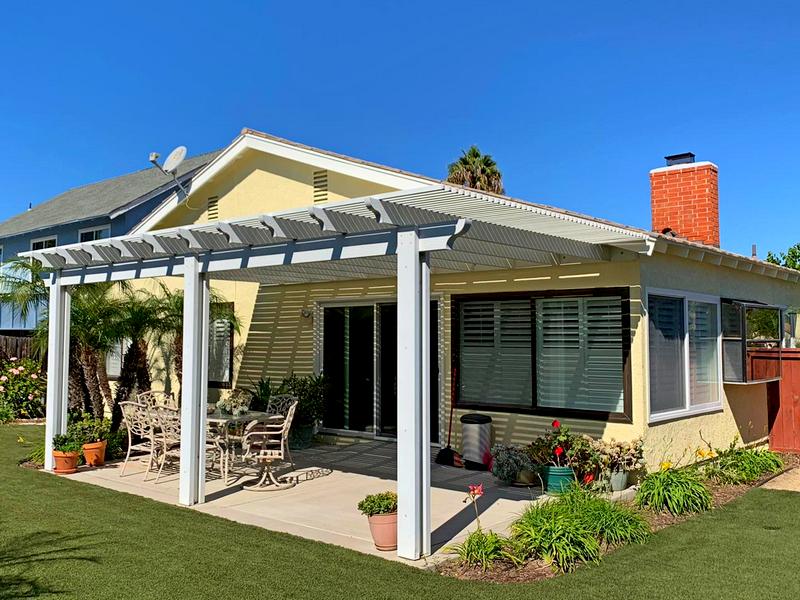 BBB Accredited Business.
A+ Rating
100% Financing,
No Money Down Get
Prequalified In Minutes
Over 19 Years Of Experience
Licensed , Bonded Insured
Thousands of customers all
over Southern California
Why Choose Genesis Home Improvements Premium Patio Covers?
Genesis Home Improvements have been installing patio covers in San Diego Ca for almost 20 years. Patio covers offer many benefits. They provide relief from the sweltering Southern California heat that can stop you from enjoying your outdoor activities. They can also help keep the home cooler during the long summer and fall months. Our Patio Covers are Low Maintenance and Custom made to order. Genesis Home Improvements Patio Covers are versatile, strong, and durable.  When the time comes to add or replace a Patio Cover in San Diego, consider choosing Genesis Home Improvements for the project, you will be glad you did.
We have over 8000 happy Patio Cover customers in San Diego and are adding more every month!
Superior Insulation

Enhance Outside Entertaining
Our success is attributed directly to our team. You can feel it when you walk into any of our locations. There is an atmosphere of teamwork, community, unity, and drive. We start every day with a meeting to make sure every employee is informed of the latest in product development, installation procedures, new guidelines (either state or federal), and recognition of successes from the previous day.
We offer many easy financing options for those who qualify and are licensed, bonded, and insured.
Benefits of Installing a Premium Low Maintenance Patio Cover
Whether you need shade from the sun, a place to enjoy parties, or protection for your vehicle, Four Seasons Building Products offers a complete line of "low to no" maintenance Covers that will take care of your outdoor needs.  
Reap the benefits of an outdoor living area with a custom low maintenance Patio Cover installed by Genesis Home Improvements.  You can entertain and enjoy outdoor living 365 days a year, even in bad weather.
Aluminum awnings, aluminum patio covers, and aluminum carports combine low-cost value with the durability of structural alloy aluminum. Because metal awnings will not warp, peel, crack, rot, or harbor termites, maintenance is minimal, and lifespan is considerable.
Aluminum awnings, aluminum patio covers, and aluminum carports are available in an unlimited array of custom sizes and configurations, as well as a variety of colors and surfaces.
Genesis Home Improvements Patio Covers and Carports are attractive, versatile, and durable.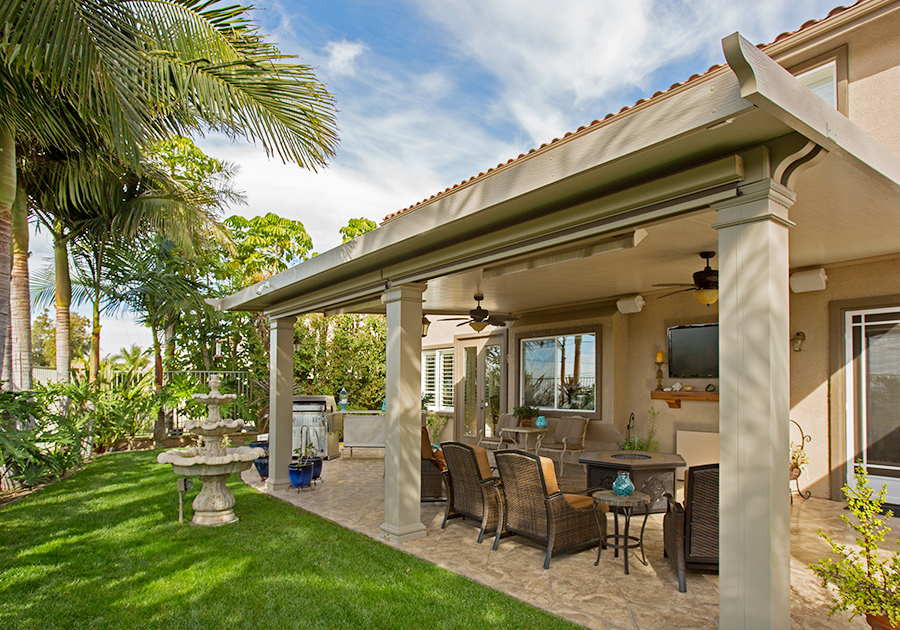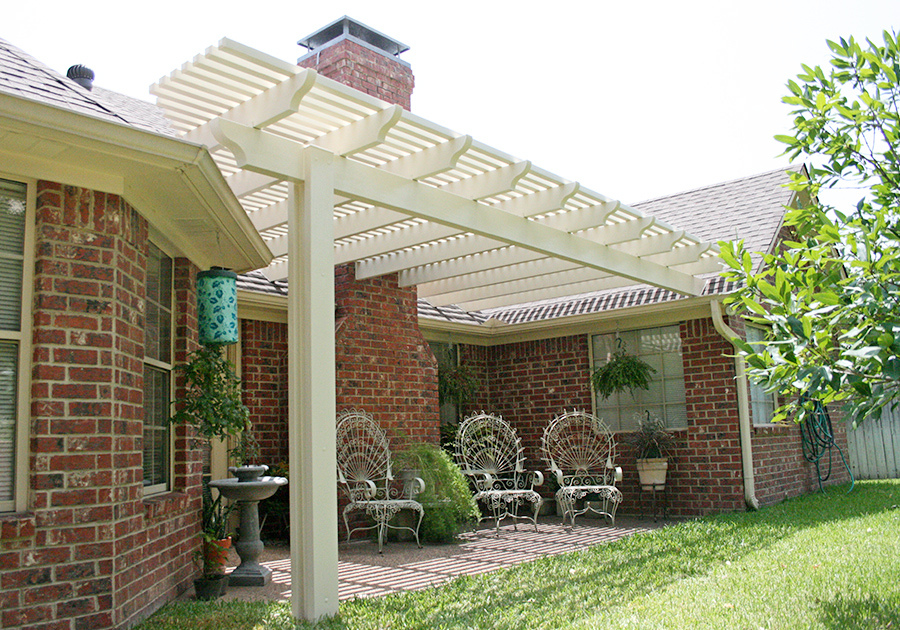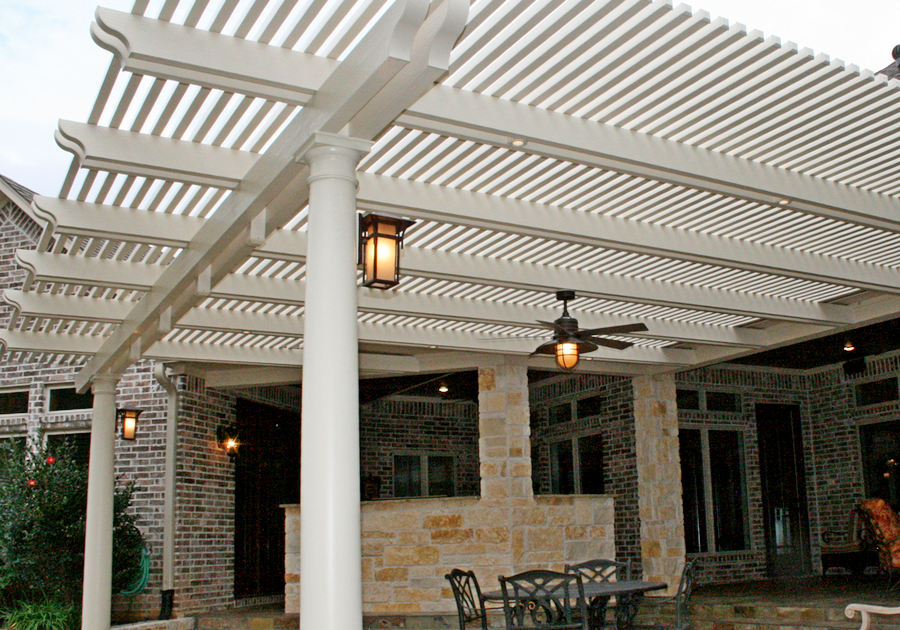 Strength
Four Seasons Building Products insulated laminated roof panels snap together tightly, forming a strong, structurally sound roof as well as a weatherproof barrier protecting your patio or vehicle from the elements.
Versatility
Genesis Home Improvements Patio Covers can be specifically designed to accommodate ceiling fans and light fixtures, giving your outdoor space extra amenities. Our Patio Covers are made from high-quality structural aluminum. Virtually maintenance-free, our covers are crafted to never rust, warp, crack, rot, or become infested with insects. Our factory-finished aluminum components retain the original color, gloss, and texture longer and better than patio products made of alternate materials. Plus, we stand behind our products with a transferrable Lifetime Warranty.
No cracking, warping, or splitting

The highest quality and durability that will preserve its beauty for years