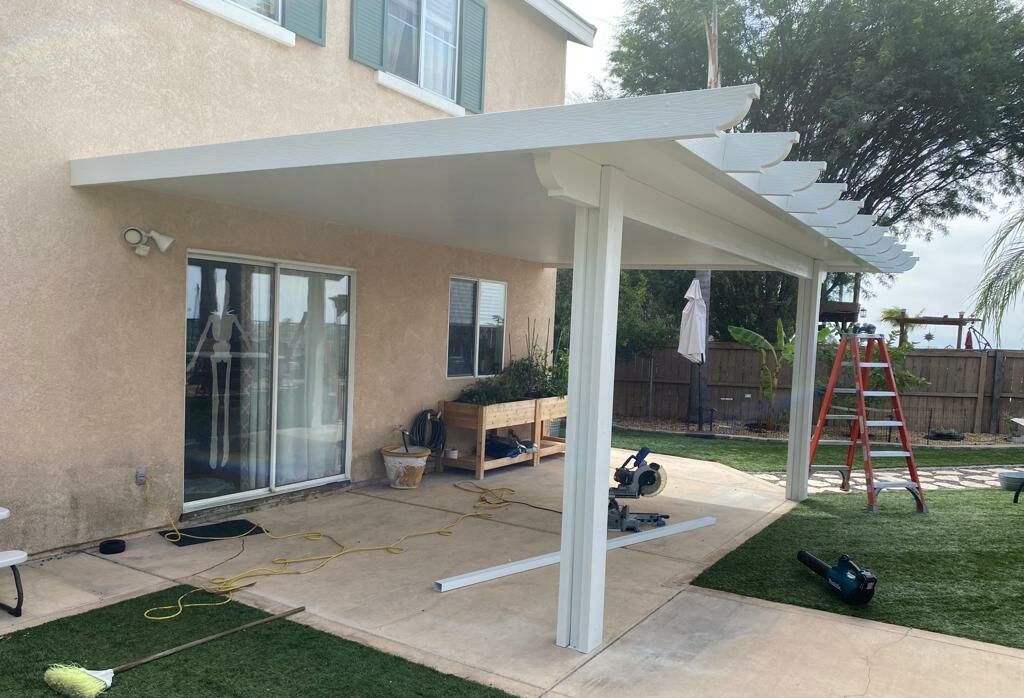 BBB Accredited Business.
A+ Rating
100% Financing,
No Money Down Get
Prequalified In Minutes
Over 19 Years Of Experience
Licensed , Bonded Insured
Thousands of customers all
over Southern California
Many homeowners consider adding a patio cover to their outdoor living spaces. A patio cover is a great way to add style and value to your property. The benefits of patio covers generally outweigh any concerns regarding upkeep and the initial cost that adding a patio cover can bring. This list of benefits will help you decide if a patio cover is right for your home.
Adds Style
An uncovered patio can sometimes look like it's missing something, which might be a patio cover. Patio covers can do as little as make an outdoor living space look more inviting. There are two stylistic options when picking a patio cover for your outdoor space. You can blend the cover's style with the design of your house or pick a cover that stands out from your house and makes a statement with its own design. The way you go depends on your individual tastes and your existing structure. A patio cover is also great if you've thought about selling your property someday. Patio covers add value by making the space and house more inviting. A patio cover makes the space more functional, which also increases value.
Provides Comfort
Patio covers provide added comfort, especially in a hot summer climate. A patio cover lets you stay cool in the shade on hot summer days. If you are having guests over or simply having a barbecue for your family, having your area covered provides a pleasant environment that keeps everyone cool and comfortable.
Usage
When you add comfort to a space, you also get a lot more usage. Your family members and friends will want to use an inviting space more. An uncovered patio sometimes goes to waste because people don't want to hang out when it's too hot or raining. You can hang out comfortably and still use electronics for music and games on the patio if you have an appropriate cover.
Added Value
The reasons listed above will increase both the value of your patio and your home. A beautiful patio cover increase value both financially and in usage rate. There are a lot of benefits that come with installing a patio cover compared to a simple open space. You don't notice many of them until you've installed a patio cover for yourself, so why not try one out today?
Install a Patio Cover with Genesis Home Improvements
Style, comfort, usage, and value are benefits that a patio cover can bring to you and your home. At Genesis Home Improvements, we have been installing patio covers in San Diego, CA, for over 20 years to provide relief from the long, hot Southern California summers. When you are ready to install a custom low-maintenance patio cover, call us at (858) 792-9444 or click here for a free quote!